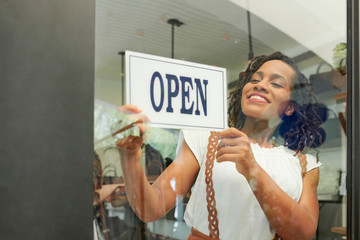 Entrepreneur and social activist Maggie Lena Walker's famous quote is "I am of the opinion that if we can catch the vision, in a few years we shall be able to enjoy the fruits from this effort and its attendant responsibilities, through untold benefits reaped by the youth of the race."
As the first American woman, of any race, she was a trailblazer. Walker inspired many both African American men and women to become entrepreneurs. She lived by Book T. Washington philosophy of "cast down your bucket where you are" and was a lifetime resident of Richmond, working to bring a change to African Americans across Virginia. In 1902, she started a newspaper in Richmond called the St. Luke Herald. After the St. Luke Herald became financially successful, Walker went on to establish the St. Luke Penny Savings Bank and became the first woman in the United States that founded a bank. The St. Luke Penny Savings Bank provided loans to the African American community, and in 1920, the bank assisted the people of the community in purchasing homes in Richmond. During the Great Depression, St. Luke Penny Savings merge with two other banks to become The Consolidated Bank and Trust Company.
A short Black History lesson for those who are unaware of who Maggie Lena Walker was and what she advocated for….
I personally stand behind the belief that businesses that have a Kingdom focus advance further. And I further state that prosperity and living for God can coexist, "IF" you put God "first" (Matthew 6:33). As Kingdom Citizens we are clear that our successful FACTOR is our relationship with God. At the end of the day, our Kingdom focus is what gives us the prospers business. The fact is that only when we submit to God do, we position ourselves to receive more, be more, in every aspect of our lives….
I'm learning that entrepreneurship is an interesting place and often results in failure and setback. But when you know that there is a purpose for your business and you are clear that you are on assignment, you understand that "all" things—even the bad, are working together for your good (Romans 8:28). James 2:26 says, faith without works is dead. When it comes to our businesses, we have to give God something He can supernaturally bless which can only come through action. It is not enough to believe we can have a thriving business; we have to take the actions that are consistent with the success we want to see come out of our business.
I want to hear from you. Are you thinking about starting a business? Have you already started your business? What challenges are you facing?