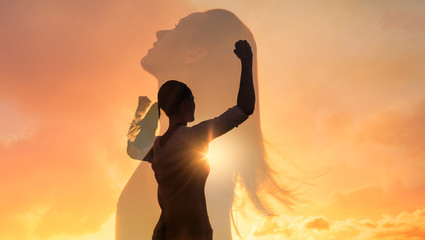 "I am tired of being held captive by anxiety and I refuse to be held captive to it any longer."
I've fought many battles in my lifetime. Many of the battles I look back on and know it was nothing but the grace of God that I didn't lose my mind—some battles will go untold.  What I will tell you is that I have emerged from each challenging situation wiser and stronger.
However, there has been this battle with anxiety…
It's a continual battle and it's a beast to fight off. Just when I think I've conquered ; it resurfaces from the grave.
Many times, I looked at myself through the lens of my own abilities and self-imposed insecurities instead of how God's sees me. I was like a grasshopper in my own sight and self-imposed that onto other people. It actually doesn't matter how others see me. It's about how I see myself, and how God sees me.
Biblical Truth: Nothing in my past or present can hinder God from using me. He is able to work thorough me.I just have to have the courage to step out on what He told me.
Powerful right? However, it is this passage of scripture that reminds me of who I am:
I am more than a conqueror.
I choose to embrace who I am; I am undeniable flawed. I am far from perfect and sometimes I am downright vile YET I am perfectly loved by my Creator. I am loved by my Lord and Savior who gave His life for me…. And, I am choosing to embrace my identity in who God says that I am instead of who and what my thoughts are telling me or even what others think and say that I am.
I am loved. I am forgiven. I am redeemed. My life has purpose. I am not my past mistakes; I am developing in my present and becoming in my future. My best days are yet to come. God is not finished with me. He has my heart and life and I belong to Him.
Unapologetically,
Me