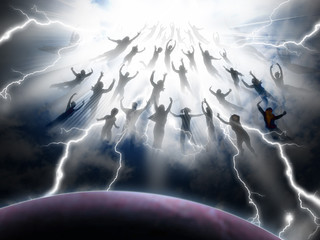 My church hosted a virtual movie night, the movie we watched was entitled "Sunday Morning Rapture…You had a choice." Such an eye opener:
You attend church every Sunday,
You help those in the community,
You are very involved in church,
You obey God's laws and you do all the good deeds you can think of,
You treat everyone like you wanted to be treated,
You feel pretty good about yourself. Certainly, you believe that on the day of Jesus's return for His church, God will weigh out all of your good works, allow you to be caught up in the air with the Lord, save you from all of the devastation and chaos that will take place here on Earth. Are you sure you can be saved by your works? How certain are you?
If you believe this THINK again! You are being deceived by the Devil and have been duped by his lies because the Scriptures clearly tells us that works cannot save you (Ephesian 2:8-10). You can compare yourself to others who you think don't live up to God's standards like you do, all you want, but no matter how much good works you do, they do not wash away your sins and make you righteous. The Scriptures says, all of our righteousness is like filthy rags (Isiah 64:6), they are done by you to make yourself righteous. If our own works could save us, then Christ was crucified for nothing!
Salvation Is A Gift, Not A Reward Based on Good Behavior
The Scriptures clearly teach we are saved by God's grace through faith NEVER by our works (Ephesians 2:8-9, Romans 3:28, Galatians 2:16, Titus 3:5-8).
What Shall I Do To Be Saved?
The only way to be saved is to confess with your mouth the Lord Jesus, believe that God raised Him from the dead (Romans 10:9, Romans 10:10). But, wait! It doesn't just stop there, Jesus died for you so now you must live for Him. How? Jesus said, if any man desires to come after me he must first deny himself pick up his cross and follow me (Mark 83:4). This means you have to die to your yourself (old nature)– be born again, and live a Kingdom focused life, prioritizing God and the Kingdom FIRST above ALL else. You no longer live according to your desires but according to the King's decrees and desires.
Then Should I Stop Doing Good Works?
Absolutely not! Good works is the fruit of our Salvation. James said it like this, "show me your faith without works, and I will show you my faith by my works (James 2:18). When we have become a new creation in Christ (2 Corinthians 5:17), we do good works because we are saved, not to be saved. Good works always involves evangelism & discipleship. If what you engage in is not for the purpose of evangelism & discipleship, then it's not "good works." It may be you doing a good deed or living a moral life, but it's not what the Bible teaches about good works.  There also has to be transformation, you cannot be saved and not be changed. When you truly have an encounter with God, He changes you through the power of the Holy Spirit. If there is no change that happened on the inside of you wherein you no longer live for you and do your own thing, but rather allowed God to dominate your life, then you merely recited a speech, you didn't give your life to Christ. When you've given your life to Christ, God dominates your life!
Maybe you don't believe in Jesus or maybe you are not taking this Rapture thing seriously or maybe you feel you need more time to get your life right with the Lord. Listen, Jesus is for sure coming back, and not for an individual, but for those who are apart of His church. So for those of you who believe you can have a relationship with God around the church, you are being deceived also and are out of Kingdom order.
This is a choice between you, God and the freedom to choose. Don't wait too long to decide to live for God, for no man knows the day nor hour of Jesus's return (Matthew 24:36). I pray that you make the decision right now to serve Him and gain eternal life; for tomorrow is not promised….
Today I have given you the choice between life and death, between blessings and curses. Now I call on heaven and earth to witness the choice life, so that you and your descendants might life
(Deuteronomy 30:19).
Below is a powerful teaching by Apostle Dr. Dana Carson: