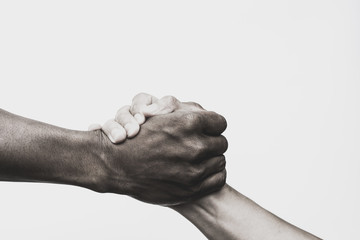 Black History Month is a time we celebrate Black History and culture. Be it the contributions of Civil Rights leaders, literature, the imprint of Black History is evident and amazing. There is so much to reflect on—simply too much, for a single month. My focus for my blog posts on honoring our Black Brothers and Sisters is only a small aspect of what it means to support a historical marginalized community.
Black History Month can serve as a reminder for us that there is still more work to be done to tear down the dividing walls of color. As we celebrate Black culture, a great part of Black culture is our belief in the God of Christianity. For generations Blacks have had an unshakable faith in God, the Bible and Church. Even in the midst of segregation and Jim Crowism, African Americans have believed God despite the unfortunate racism and prejudices that they faced. This concept is not foreign to the Church. Dr. Martin Luther King Jr stated, "I think it is one of the tragedies of our nation, one of the shameful tragedies, that eleven o'clock on Sunday morning is one of the most segregated hours, in Christian America." What Dr. King expressed in 1960 is still an issue that the church experiences today.
Though the underlying reason for racism is about economics, the devil instigates divisiveness. Because of this, as Believers we must war for the unity of the Church. To overcome racial biases, we must fight for the unity of all ethnicities. As the Body of Christ: We have one common goal: the advancement of the Kingdom. When we stand united in spite of our differences and putting everything else under the rule of Christ, the power of God can be manifested through us.