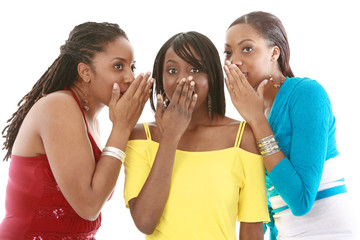 Family gossip…. It's almost unavoidable in families especially in African American families. But is there anything you can do about it? The scriptures teach us how to handle gossipers in the church and how to deal with conflict with your brother or sister. Yet, when it comes to handling your family members that talk about other family members, how should you handle the situation?
This is an issue I personally deal with in my family. One side of my family members talk about me and my son. Since taking my relationship with God seriously I can't help but to reflect on this situation in dealing with my family. For the most part, what I hear they are saying isn't even true. I sit here wondering is there anything I could do to rectify the situation. What I have come to find out there is no easy way to take specific steps to keep yourself apart from family gossip and drama.
Sometimes we spend years sacrificing our emotional well-being and mental health under the notion "we have to" because they are family. It may be time to curtail spending time with family when the contact with them brings you down or makes you feel not good enough or when it causes so much stress that it affects other areas of your life, when your emotions are always caught up in defending yourself and wanting to explain yourself and the chaos to your other relationships is all you talk about, if you find yourself obsessed trying to right the wrong made to you and constantly losing sleep over it. Gossip only serves one person and there usually is a ringleader gathering the troops for the assault made against you.
However.…make sure you are not playing the blame game because that's not beneficial either. Verbal warfare will never convince them of anything. This is a battle you will need to fight in prayer. A family member wanted to come regulated about a situation they know nothing about and because she was told lies from another family member. I wanted so badly to call and give her a piece of my mind. But the Holy Spirit told me that is going to make matters worse, pray for her and let it go. Let it go?? Lord, but I'm sick of this! She's always running her mouth and don't have the full story. However, in the end if I'm going to be a Kingdom Citizen, I have to submit the sovereignty  and wisdom of God. I also must give credence to the scriptures ( See Ephesians 6:12). In my flesh I'm going all directions off but I have to remember that my fight is not with my family members but it's against the devil that wants me to get misfocused from what God wants me to do and what the scriptures calls civilian affairs (2 Timothy 2:4). The devil has used family since the beginning. Look at Adam and Eve. Satan will always use family to distract us from what God wants us to do. We have to be spiritually mature in that we have to forgive those family members who choose to be used by the devil, fight the enemy through spiritual warfare and continue to be a witness for the Kingdom.