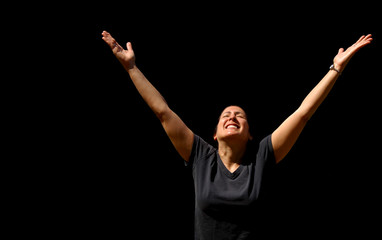 This is the day that at the Lord has made let us rejoice and be glad in it (Psalm 118:24).
If you have a church background or you have gone to church, the scripture above is a very familiar passage. Many of us have heard this verse, and it can become so familiar to us that we miss the context in which it was written for.
So, what is the day that this scripture is referring to? Is it a specific day? A good day? The psalter is writing about a time faced with adversity. It's not written for when times are good, but when times are really challenging. The Psalmist was surrounded by the enemy, right in the midst of adversity, he gives God praise.
This shows us joy that comes from the Lord is never dependent on our circumstances. Although we may say it with our lips, it can be hard to believe it in our heart. Learning to choose joy in the midst of hardship requires our focus to be set on Him. God is faithful! He is faithful even when we are faithless. And we can rest assured that His grace makes it possible for us to "rejoice." No matter what we face, we can still believe in God's love for us. It was by his loving kindness that drew us into a relationship with Him.
Sometimes we can get caught up with life's hardships and we forget how powerful our God is. We can tend to go through struggles thinking God is not listening. God knows right where you are, nothing has escaped Him. As Believers we have to know that our lives are hidden in Christ.
Every day God allows you to open your eyes to see another day, He still has purpose for your life. There is still work for you to do. We might be facing a tough time right now, but the truth of the matter is God breathed breath into your lungs and allowed you to see another day— it could've gone the other way. God never leaves us to fight the battle alone. He covers us. He strengthens us.
No matter what you are up against today, be confident in God's unchanging hand.
Love, joy and peace to you all, as you live this day, live it with purpose (Matthew 28:19).