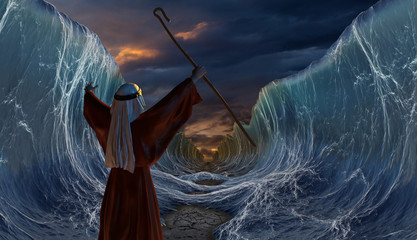 I stopped by Dawn's post and read what a friend and I was discussing just the other day. We talked about how we want God to deliver us, but we don't want God to place us in front of a Red Sea. We want God to set us free, but we don't want to be in a position where God can set us free. I confess, sometimes I think, God why can't you just deliver me , I'm mean really, why do we have to go through all that? I see a Red Sea before me, an army behind me, I know you can deliver me, but why you got to scared me like that!! Then the Holy Spirit reminds me that my ways are not His ways.
This is what the children of Israel faced, an impossible situation through which God miraculously delivered them out of. Take note: God doesn't always deliver us out of problems, but He promise to guide us through our problems. Many of you right now are facing an impossible situation, and it seems to be no way out. You are between a Red Sea and an army behind you, with no idea how you are going to get through this. Let me ask you this. Did God supernaturally bring you out before? Then He will do it again! The Bible says, He's the same God yesterday, today and forever…
Every Believer faces a Red Sea, situation where if God Himself doesn't do it, it can't be done. We find ourselves in a place where there seems to be no solution, no answer and no way out. Ever had your back against the wall? I have. I'm there now. When nothing can bring you out expect a mighty move of God! Between the Red Sea and an army that is after you doesn't feel like a good place to be.
When we find ourselves at the Red Sea, we can't possible see how things are going to turn out okay. We see danger! We see the bills that are due! We see discouragement! We see despair! We see defeat!
You know what's so mind boggling? God sometimes will intentionally put us there. Why would God do that? Because He knows exactly how things are going to turn out.
Consider that you are standing between the Red Sea and an army because God purposely put you there.
God will place us in a certain situation so you will know and others around you will know that it was nothing but the hand of God that brought you out.
We must have the ability to stand when everything in us wants to go backwards. But there is no such thing as back. Back to what?? God doesn't move us backwards; He moves us forward. He takes us from faith to faith and glory to glory.
I can't go backwards. There is nothing to go back to, I couldn't go back to my old life and pick up where I left off.
Your Red Sea is your testimony to the faithfulness and power of God. Are you asking God to move in mighty ways in your life? Get ready for the enemy because he's coming.
God will allow us to be in a position where we have no way out, no choice be to rely on Him. As scary as it may be, there are some miracles you are going to have to just stand still and see the salvation of the Lord. If you are like me then you want your deliverance easy and without resistance, but it will only manifest in a way that brings glory to God. It's okay to be afraid, but its not okay to stay afraid. Fear is what introduces you to faith, without fear there is no need for faith. Faith in God! God is more powerful than any Red Sea before you or an army that is behind you.