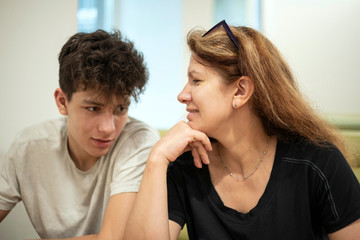 I was moved by Dawn's blog post entitled, "I Will Give You Rest" and thought about my own child as I read her post.
One of the greatest things about being a parent is watching your child grow up.
That's also one of the hardest things, particularly when the paths our kids choose don't line up with the values that they were taught. We want our children to become the people God meant for them to be. As our grown children go into the world of careers, colleges and making decisions of their own, prayer is how we can influence their lives by partnering with God as He works to accomplish His good purpose. As a parent, we should use our words to affirm our children for who they are, while encouraging and inspiring them towards success. I know personally how the power of prayer can change things –even when our hearts are heavy. It seems awkward to affirm an adult child who is not walking with the Lord or who has made a choice that is not aligned with God's Word, consider this: affirmation is not the same as acceptance. Rather, when we affirm our children, we do the same thing that God does when he blesses us despite our disobedience. The scripture says, He is faithful even we are faithless (2 Timothy 2:13). He shows us favor and guides us towards the abundant life He intends for us. The prayer we pray on behalf of our children is an acknowledgement that we are not trying to control our children's future, rather, we are handing that over to God and trusting Him to give them vision and purpose.
And that's my prayer for us as we continue to love and pray for our children: that we would know the grace of God, It doesn't matter whether you feel done everything you could as a parent (and now find yourself wondering why things have turned out the way they have) or whether you are all too aware in the areas where you may have failed to properly guide your children (and now find yourself wondering if things will ever get better).
Continue to PRAY….
I don't care what it looks like….PRAY!
Pray with tears in your eyes .
Pray with a broken heart.
Pray and don't give up on that child!
What are some of the areas you are struggling as a parent?
If you are comfortable sharing, please comment below: