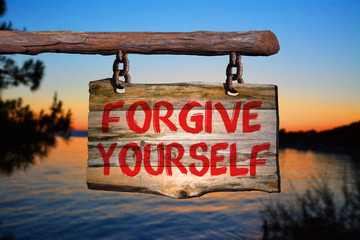 I wrote this post some time ago. I was inspired to share it now after reading a blog post from Dawn. Dawn's blog post is so encouraging, she reminds us how it is important to forgive ourselves.
The person I forgive today is myself. Oh, how I would stay up late rehashing over in my mind, what is wrong with you!?! How could you let that happen? Thinking to myself was there something I could have done or said differently.
When I start with myself forgiving others becomes easier.
 Can we talk about forgiveness? I'm not talking about forgiveness you extend to others in this particular post, but the forgiveness you allow for yourself.
Sometimes what I really struggle with is forgiving myself. I would beat myself up about anything and everything that if I could use myself as a punching bag, I would be bruised all over.
I know better (Romans 8:1). For instances, if I make a bad decision that results in a negative outcome it doesn't mean that it is finality, that I can never recover or that God loves me any less because I made a mistake. Or maybe I knew it was wrong but I was driven by my flesh and so I manifested that which is the work of the flesh (Galatians 5:21).
I'm learning how to forgive daily; not just for others but for myself as well. Forgiveness is the first step towards healing and moving forward—but it also alleviates us of our mental depression. Let's first address how we can become bound to depression.
Throughout our lives we face bad incidents or insults that we don't want to talk about. Gradually, what happens is not only do we rehash it in our subconscious mind it eventually manifests externally, but we also keep it in our conscious mind day and night. When we keep beating ourselves up for the past mistakes, it is impossible to  forgive ourselves which stunts our spiritual growth and holds captivate what God wants to do in our lives. I realized it's time to forgive myself. Forgive myself? What! How? I did not know how to do that, nor did anyone teach me how. I learned through the Word of God that there is at no time wherein God gives me a by to walk in unforgiveness, even towards myself. The only person God gives us permission to hate without reproach is the devil. Upon entering the Kingdom this was a new concept for me. I felt I didn't deserve to forgive myself. That everything I was experiencing was of my own making and I deserved whatever negative outcome was attached to the choices I made.
I realized that I needed to forgive myself for every—mistake, every mishap and for every wrong deed or spoken word and for the error of keeping these mistakes as a repeat in my mind.
It's helpful to know that mistakes are a result of us being human. It's control when we want to be perfect, the only person that is perfect is —God. We also grow from making mistakes. You stay stuck in the "safe zone" when you are fearful of making mistakes and probably will not maximize your full capacity.