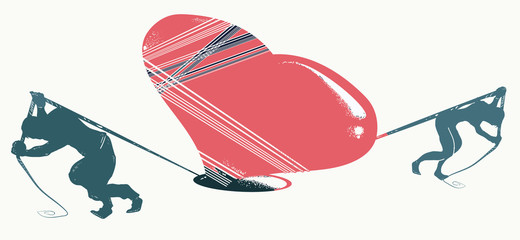 The story of Leah, Rachel and Jacob is quite the  dramatic story of jealousy, envy and hatred. I urge you to read it for yourselves from Bible (Genesis 29), but I wanted to use this story to help you understand where I am coming from.
I was inspired to share this blog posts after reading Esther blog https://growinggodseternalfamily.com/2019/11/10/the-stupidity-of-jealousy-in-the-church/ ….Go check out her blog she talks about real struggles that we deal with and what the Word has to say about it.
To give a quick background on this story Jacob begins working for Laban. He notices Laban's younger daughter Rachel and falls in love with her.
The scripture says that Jacob loved Rachel; so, he said to Laban, I will serve you seven years for Rachel your younger daughter. When those seven years were over the father then plays a big switcheroo on Jacob and gives him the older sister, Leah instead of Rachel on his wedding night. After realizing what happened, Jacob is promised Rachel only after he promises to work another seven years for Laban.
There are many lessons we can learn from this story, but the one I want to focus on is the rejection that Leah felt. The narrative said that Jacob hated Leah, however, she continued to bore him children thinking it will somehow make him love her. Have you ever felt left out, looked over or rejected? It is very clear from the scriptures that Leah was not Jacob's desired pick. Leah was jealous that Jacob loved Rachel and Rachel was jealous that Leah could bore children because she was barren, both were jealous of the other based on perception.
Jealously is an emotion that whether we admit it or not we have all experienced or can relate to. Jealously can be in any type of situation. I think it's safe to assume that we've all been on both side of jealously, by feeling it and being on the receiving end. There are ladies who look at me and wonder how I am in a relationship in my physical condition and feel they should "have somebody" because they aren't disabled and their physical appearance is superior to mine. I look at them and I wished I had their abilities.
There is a stigma around disabled people who date non-disabled people. But, that's a conversation for another day…
Leah had some jealously because of the attention that her sister received over her. Jacob's love for Rachel was greater than his love for Leah (Genesis 29:30).
Does this resonate with you? You pray for something, wait earnestly and then watch God give it to someone else. Feeling overlooked or not good enough can be a deep hurt that can snowball into feelings of being less than, forgotten or the fear you aren't wanted because you haven't been chosen yet.
I love how God has a special plan for each one of us. God enabled Leah to have four sons because He saw that she was unloved, He saw the rejection that she faced (Genesis 29:31). What caught my attention, that even though Rachel was beautiful and was desired she also had her own issues of jealously that having a man could not fix.
May we be reminded that God's plan for our lives doesn't always end up with us being the most popular or named the most beautiful. We aren't promised a life of popularity, but what God does give us, is enough. Security in God's love and His desire to use our lives for His glory is far more special than anything you ever could get from a  human being.