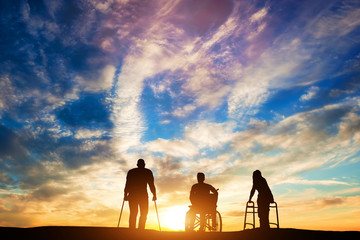 After reading these inspiring blog posts: https://everysmallvoice.wordpress.com/2019/11/06/i-met-depression-and-i-won/ and https://jesusluvsall.wordpress.com/2019/11/03/chronic-illness-and-gratitude/ then in my statistics class I had to come up with a quantitative research question in which I came up with a research question, "is there a significant difference of women with depression who have a physical disability than women with depression who do not have a physical disability?" I started thinking about my battles with depression and how it's correlated with how I see myself due to my disability and how others see me.
I hope by sharing my story that it will help someone.
Depression is a mental health problem that faces many people but especially those who have a physical disability.
I've had difficult conversations with people who judged my unemployed status; I've encountered people who seemed jealous or resentful. I've had people voice their opinion that I just want to sit at home all day (you don't know what I do all day). These people seem to have more resentment around my income and financial situation. The point is once these opinions bubble to the surface, I usually keep my distance with that person. You know, hi and bye, how you doing? Oh, that's great, God bless you–kind of interaction. I've had really bad experience around this issue and honestly it really is quite offensive. And, just let me add a side note that there are people who have health issues for reasons that are really none of your business. Don't resentment them for it. Believe me—if they could trade their disability check for your health, they would. Even if someone doesn't talk about their disability or refer to their disability related limitations, they still deserve respect as a person and their disability doesn't define who they are. I didn't go to school to get college degrees and currently in a master's program if I don't have a desire to work. Please don't ever get it twisted, I'm not one who likes to sit on my butt and do nothing all day. I've started working since I was a teenager it just isn't 'easy for someone in my condition to gain employment. I have limitations of driving on the freeway—okay, it's more fear and anxiety (pray for me) so I'm limited to my area which aren't very many options. It's almost always awkward when a potential employer comes out to greet me for an interview, they aren't expecting me to be on crutches. I've tried to address the elephant in the room by taking the focus off my physical limitations and put them on what my skill-sets and qualities are. Somehow, it doesn't seem to matter, when an employer looks at me, I feel they see a liability. Although we have laws in place that prohibit discrimination against anyone with a disability, I continue to get passed by for jobs I'm well qualified for. I remember interviewing for a Telephone Operator position for a hospital and thinking "I know I'll get this job, I have an associates degree and I have several years' experience answering phones"—needless to say, I didn't get the position.
Dealing with the limitations of life and how I perceived myself, I've battled with anxiety and depression, that affects my life in various ways pretty much every day. I have a very common birth defect wherein I was born with a split in my spine. I also have fairly severe scoliosis. This is related to my disability. I've gone to physical therapy throughout the years to try to obtain somewhat of normal function in my legs. I was in physical therapy for months, but still need crutches for mobility. I live with some amount of pain and discomfort every day; some days are worse than others. My daily battles include things that other people don't think twice about. It's difficult for me to stand, bend or to sweep a floor. When I wash dishes, I have to lean against the bottom cabinets, so I don't lose my balance. If I'm sitting, I get muscle cramps and spasms in my leg. There is no cure, but I don't have to make peace with the fact that these problems aren't' going away. I serve a God who is a healer! If He can cause the blind to see, the lame to walk (I've seen these miracles happen in my church with my very own eyes) then surely, He can heal my condition.
When I was younger, I asked my Orthopedist specialist was there some type of surgery or medicine that could make me better. She said there isn't anything and that I would always be like this. But, we'll see about that!
The pain and the hardships of life is very difficult to explain to someone who has never experienced it. I'm not talking about just the physical aspect of it but the emotional as well, there were times I thought about suicide. I am a lot better than before and I've been learning how to see myself as an overcomer through Christ to live beyond my limitations.
Thanks for reading! I hope this blessed and ministered to you in some way!!